After I have spent many dives and enough time at the well-preserved wreck of B-17 lying down next to island Vis, I set my mind to visiting the wreck of PBY Catalina just a bit further out, close to a small island of Sveti Andrija or commonly known as Svetac, but at depth of around 95 meters.
If I would be able to own one aircraft, that would be a PBY Catalina which colored this plan of mine with additional personal passion to visit this specific wreck.

For more underwater wreck photos, take a look at my Wrecks gallery as part of my Website.
PBY

Catalina

Looking back, PBY Catalina is maybe the most famous amphibious airplane ever often referred to as the "flying boat" that made its reputation during WW2. It was designed back in the 30s by Consolidated as an answer to US Navy's need for a "patrol flying boat". It came out as their first project from their new San Diego-based factory where they moved in 1935. From 1936 to 1945, approximately 4,000 Catalinas were built and used by numerous Allied air forces throughout World War II.
Later in 1941, it was named Catalina after Santa Catalina Island next to San Diego in California. Name-wise, PB stands for Patrol Boat, while Y is the designated code for Consolidated as manufacturer hence PBY Catalina. It was the most produced aircraft of this type with some 3300 aircraft built.
Its main role was a "patrol bomber" where its main mission was to patrol the coast and disrupt enemy logistics by attacking its cargo ships. Later during World War II use of PBY Catalina expanded into anti-submarine warfare, convoy escort, cargo transport and finally search and rescue missions (SAR), especially air-sea rescue. And this is exactly where this story starts.

The PBY had its vulnerabilities: it was slow, with a maximum speed of 230 km/h, and with no crew armor or self-sealing tanks, it was highly vulnerable to anti-aircraft attack.

The Catalinas proved effective in search and rescue (SAR) missions, code-named Dumbo. Small groups of around 3 Catalinas would patrol critical areas and be on standby.
Rescue Squadron
In August 1943, the USAAF drafted plans to organize seven air-sea rescue squadrons (ARS), each to be equipped with Consolidated OA-10 Catalinas for rescue operations.
In the Mediterranean, the USAAF assigned three or four worn-out Catalinas to ASR in the summer of 1943. Administratively, they were assigned to the 12th Air Force; operationally, they were under the Northwest African Air Force's Coastal Command. In late 1943, the crews were sent back to the US to serve as instructors at the newly established Emergency Rescue School (ERS) at Keesler Field, Biloxi, Mississippi. The first unit formed, the 1st Emergency Rescue Squadron was sent to the Mediterranean in April 1944.
1st ERS initially landed in Morocco and started operating out of Ajaccio in Corsica. In May 1944, the squadron began a split operation to increase the area in which it could provide SAR coverage. Headquarters and C Flight remained at Ajaccio, Corsica, while B Flight left for Foggia Main Airfield and A Flight for Grottaglie Airfield, both in Italy.

Allied-Partisan Order of Battle for Vis island included Flight B, 1st ERS with OA-10 Catalinas out of Vis, from their base at Foggia, but they did not have a permanent presence on the island.

Mission

It was September 12, 1944, and yet another massive Allied forces raid was going on. More than 300 B-17 and B-24 heavy bombers were on their way to bomb the Allach BMW Motor Works in Germany.
On their route back to Italy, the rudder control of the one of B-24H Liberators (S/N 41–28762, Tailwind, 515th BS, 376th BG, out of San Pancrazio, Italy) failed, and the crew was ordered to bail out and parachute over the Adriatic Sea, a bit north of island Vis. Tailwind was a radar ship.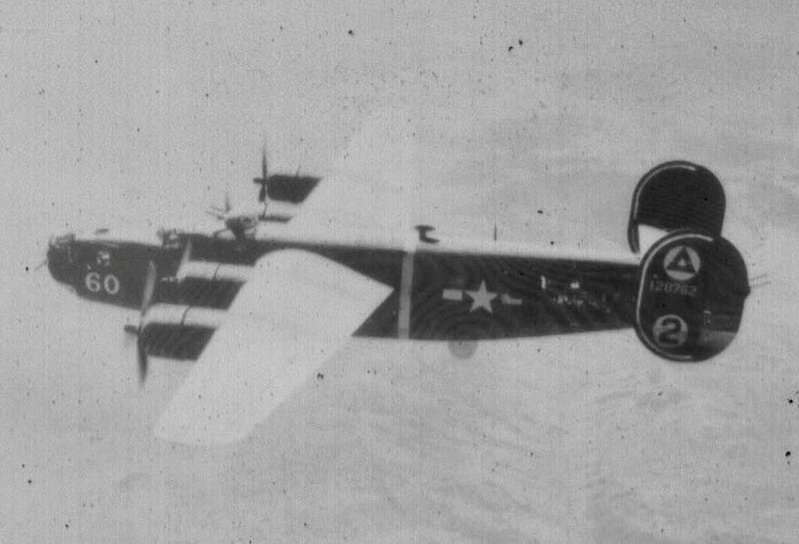 The pilot and 6 of his crew survived while 4 were never found. The bailout was a standard procedure since Island Vis was a free territory under the control of Yugoslav partisans and had an Allied presence from 1943 to 1945. A common scenario was that damaged allied aircraft could land on a tiny land strip, crash-land on the sea or crew could just bail out and parachute.

Rescue
There were 7 men in the rough and cold Adriatic Sea and Search and Rescue mission was launched. This is how our PBY Catalina gets into this story with one of its standard mission types.
Pilot Lt Eisman and his crew took off from Foggia Main at 10:20. By 11:25 they have identified 5 crew members in the sea wearing Mae Wests. They tried to contact a local rescue boat from the island of Vis, but they couldn't so they performed an open-sea landing with high swells and strong winds working against them. 5 survivors from B-24 were successfully rescued and taken onto the Catalina.
Catalinas were never designed for SAR. The airplane is amphibious and was designed to operate from land or harbors, lakes, or protected bays, but it was not built to withstand the stress and poundings of landings and take-offs in open seas. Because of risk, the policy has been to limit open-sea landings to extreme emergencies.

Like there was not enough drama with B-24 in the sea, another one was about to start.
Unfortunately, due to the same swells, PBY Catalina could not take off. Lt Eisman decided to taxi Catalina to the sheltered side of Svetac which took 3.5 hours. Here a takeoff attempt was performed on the still somewhat swell sea.
The main risks for every open-sea landing and take-off are the possibility of being thrown off the water by a swell, and without flying speed, crashing into another swell, thereby collapsing the forward section of the hull or splitting the hull, causing the aircraft to sink immediately.
Unfortunately, this is exactly what happened here. The swell hit the nose and broke the nose wheel doors. As the water got in, it just got worse, and very soon water was flooding the Catalina and it very quickly began to fill with the water. After saving Catalina failed, it was decided to abandon it and everybody boarded the lifeboats. Now all together, the PBY Catalina crew and already rescued B-24 crew members were in the water. Very soon, a based British boat showed up and saved them all and took them to the island of Vis. The next day Catalina's crew went to Foggia with another Catalina.
Wreck

This wreck of PBY Catalina lies at 95 meters of depth on the sandy bottom. There is nothing around it and it is the only object on the bottom.
Wings are tipped, engines dropped out of the mounts and the tail section is completely missing but the wreck still has a recognizable Catalina look. It is well inhabited by smaller residents in the form of shells and crustaceans but I also heard stories of larger residents claiming the interior of the hull.

Characteristic PBY Catalina pilot and gunner nose are what really stands out and instantly bring this wreck to life. Next to the nose, what is also really characteristic of PBY Catalina are 2 large wheels on the sides that retract into the fuselage during the flight which are also very unique.

This wreck was discovered in 2016 by Andi and his father Lorenz Marovic out of Manta Diving Center from Komiza, Vis. Their "hobby" is to spend some time off-season "scanning" the seabed around Vis and "hunting" for the new wrecks. They found many and are sort of classic wreck-hunters as in Clive Cussler's books. While they discovered many wrecks, many more are waiting to be discovered around Island Vis since it was a very historically busy area for almost forever and the WW2 was just part of the story with its amazing flying machines.

The first published article about this PBY Catalina wreck was authored by Franco Banfi on the Mares website.
Dive
Since almost 100m deep, this was not an ordinary dive but a true small expedition of its own. My CCR instructor and I were the only divers with another person supporting us on the boat.

Since the wreck is not marked we had to first identify it with the sonar, and then drop a thin descending line. This initial part of the dive already makes it not certain since we could have easily missed it. At 100m of depth, there is not much time to search for things, no matter how big they were.
In terms of planning, we have timed the dive for a specific day where there would be no wind and no waves, and no currents so that we have perfect conditions for the long decompression obligation we would accrue down under. We used our ISC Meg rebreathers with strong Trimix diluent. Next to it, we had to carry each complete set of bail-out open-circuit tanks for 100m depth and planned bottom time which was 15 minutes. Only 15 minutes to find the wreck, enjoy it, and take some photos of it. In total, the dive time was around 3 hours.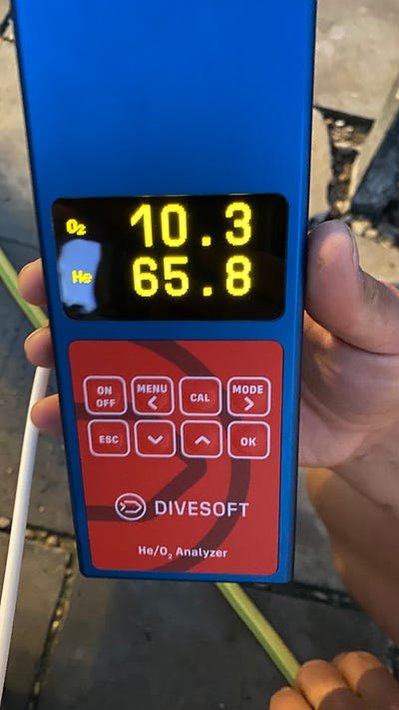 Should I mention that my camera controls were stuck so I had to use what I had previously dialed in and could not change anything? Luckily I did think about this scenario and planned for it so my take on ISO, aperture, and shutter speed worked out well. The only thing I could control was the power of my strobes and that did work and help. I did use my buddy's video lights as remote light sources and based most of my photos around that so it was good teamwork in this area as well.

I am looking forward to returning there at least one more time.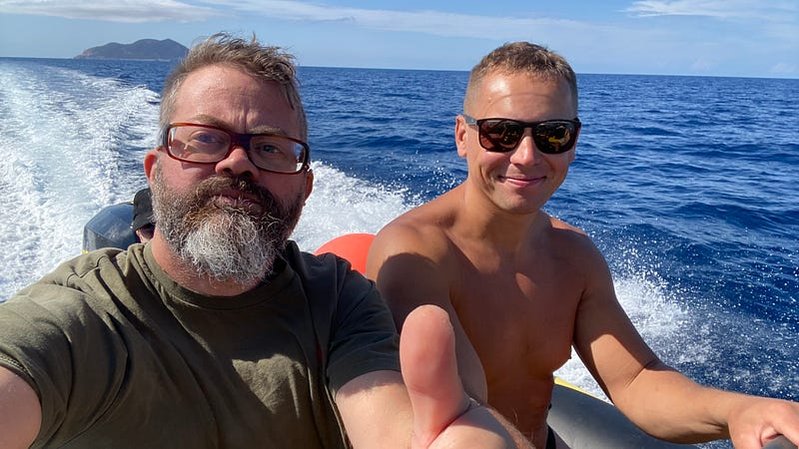 Interesting Facts
1. 67 Catalinas were destroyed during the Japanese attack on Pearl Harbor on December 7, 1941.
2. Over 4.000 Catalinas were produced and it was operated by the U.S., British, and Canadian air forces, among others. Its wartime and post-war service history classifies the PBY as the greatest seaplane of all time. Many are still flown today, over 75 years after its introduction.
3. PBY Catalina was in continuous production for more than 10 years, and as a result, was built in larger numbers than all other flying boats combined in America.
4. Black Cat operations in the Pacific were among the many famous combat roles for the PBY. Operating at night and painted overall black, the Catalinas of 14 squadrons sank 112,700 tons of merchant shipping and damaged another 47,000 tons and at least 10 Japanese warships between August 1943 and January 1944.
5. Catalinas were NOT being built to withstand the stress and poundings of landings and take-offs in open seas, the policy heretofore has been to limit the open-sea landings to extreme emergencies. Three successful open-sea landings were considered the maximum number before the airplane required depot overhaul.
6. At the outbreak of WW2, with young men going into military service, Consolidated hired 40 women as an experiment, assigning them to work at the San Diego plant, building PBYs and B-24s. These women grew in numbers to several thousand within 1. By 1943, employment at Consolidated peaked at 41,000, of which almost 40 percent were women.
7. The Soviet Union produced a license-built version for their Navy called the GST and powered by Mikulin M-62 radial engines.
8. Island Svetac was acquired by members of the Zanki family and the population census from 1951 was around 60, all members of the Zanki family. The owner of Diving Center B-24 is Veljano Zanki so this, and a few other wrecks, are sort of in his backyard.
9. Jacques-Yves Cousteau used a PBY-6A (N101CS) to support his diving expeditions. His second son, Philippe, was killed in an accident in this aircraft that occurred on the Tagus River near Lisbon. The Catalina nosed over during a high-speed taxi run undertaken to check the hull for leakage following a water landing.
10. Paul Mantz converted an unknown number of surplus Catalinas to flying yachts at his Orange County California hangar in the late 1940s and early 1950s.
11. There is an abandoned PBY-5A in the Saudi Arabian Desert
12. The Catalina Affair is the name given to a Cold War incident in which a Swedish Air Force search and rescue/maritime patrol Catalina (Swedish designation "TP 47") was shot down by Soviet MiG 15fighters over the Baltic Sea in June 1952 while investigating the disappearance of a Swedish Douglas DC-3 (later found to have been shot down by Soviet MiG-15s while on a signals intelligence mission; it was found in 2003 and raised 2004–2005).
13. List of surviving Consolidated PBY Catalinas
References
This article is also published on Medium.